Two quick updates from the fiction department:
1) Following the success of the fund drive, we've increased our maximum wordcount for fiction submissions to 10,000 words!
2) As usual, the fiction department will be closing to submission in December -- so if you've got a story you want us to consider this year, now's the time to submit.
---
$15,507.64
That's a really nice number to wake up to! It means we reached our stretch goal and then some, so we'll be bringing you some longer stories next year.
A huge round of thank-yous to everyone who donated, everyone who tweeted, blogged, or otherwise promoted the fund drive, and to the contributors who let us use their material in our fund drive issue (read the whole thing here, if you haven't). This is one of our biggest fund drives ever, and I think it definitely has the most donors ever -- well over 500. It feels amazing to know we can do that as we head into our fifteenth year of publication.
Thank you!
(We'll be doing the prize draw over the next couple of weeks -- so keep an eye on your emails.)
---
We -- or rather, you -- have done it! We've reached $13,500, which was our primary goal, so 2015 will see another full year of Strange Horizons stories, poems, reviews, articles, artwork and podcasts. Thank you!
Oh yes, and we've published the concluding part of that Ann Leckie story, as well. (Read part one here.)
But wait! There's more! We've got fourteen hours left in the fund drive (which means fourteen hours during which you can be entered into our prize draw), and a stretch goal in our sights:
This year's fund drive target is US$13,500. That's enough to allow us to continue publishing at our current schedule, paying our current rates, for the next year. As ever, however, we want to do more! So we have an additional goal: If we raise $15,000, we'll publish an additional 18,000 words of fiction, giving us the scope to publish longer stories throughout 2015. (Anything above this target will go into a general fund enabling us to publish special issues, or to host additional events at conventions, for instance.)
So there's still a reason to donate, is what I'm saying. We'd love to bring you some longer stories. But whether we get that far or not, you've ensured that Strange Horizons will be around for its fifteenth year: thank you, again.
---
This week has been amazing -- thank you to everyone who's donated. I thought it would slow down over the weekend, but nope: we've reached $12,000, and thus published our penultimate piece of bonus content, a new column by John Clute reviewing The Bone Clocks by David Mitchell:
And once we accustom ourselves to the cartoonish extremes Mitchell allows himself in his attempts to capture the narcissistic excesses of Anchorite behaviour, we can begin to parse The Bone Clocks properly: for those who become Anchorites, not unlike neoliberal philosophers, ultimately lose their souls; their contempt for bone clocks is the deepest of all sins. So what we half-suspect, and what we know for sure by the end of the tale (though the ball never dropped for James Wood), is that the Anchorities and the Horologists, though we must take them literally, are not the heart of the matter; way less so than the very similar (and certainly related) noncorpum who narrates Ghostwritten. They do not cage the book; they elucidate it. The title is of course the heart of the matter.
Read the whole thing here.
So this is what it comes down to: two days and eight hours left in this year's fund drive as I type, and one piece of bonus content left, when we reach our goal of $13,500: the conclusion of Ann Leckie's "She Commands Me and I Obey." And after that -- if we get that far -- comes the enticing prospect of our stretch goal: an increased budget for fiction in 2015. You can donate here, if you haven't already.
P.S. Travel has meant a minor delay in sorting out the bonus draws for Kaleidoscope and Twelve Tomorrows -- notifications will be going out tomorrow.
---
And last but not least -- October, the month just gone.
Art © 2014 by Mervin Malonzo
I wouldn't necessarily include October, given that it only just finished, except that I really wanted to link to Amal El-Mohtar's lovely write-up of "Santos de Sampaguitas". And I think Mervin Malonzo's art for the story is great, too. So there.
Santos de Sampaguitas
And speaking of that write-up, it came in two parts, as the story was published. Here's part one; and here's part two. They're long and thorough discussions, but the summary:
Briefly: it made me gasp and cry in that mixture of shocked, satisfied pain that comes from a story that's managed to truly, suddenly surprise you with the places to which it was willing to go, the comfort it was willing to strip away. I recently had the experience of moving my body through increasingly heated rooms before plunging it into a pool I hadn't been told was not just cold, but icy–and the experience of this second half was very similar. I hadn't realized, after reading Part 1, quite what kind of story this was.
So there you go.
At Tangent, Louis West also recommended the story:
This exceptional tale is set in the streets of Manila and immersed in the ages-old conflicts of the poor rural peasant versus the wealthy city class, plus Catholicism versus worship of the old gods. Maria is a plucky girl who, in spite of her withered right arm and hand, constantly adjusts how and what she does to accomplish whatever anyone else can do. For example, to open the pouch containing the arrhae, she pins the edge of the pouch with her right elbow and uses her left hand to pull the drawstring free. She tries not to let her disability define her even though it does identify her to the dead god as his.
But Lois Tilton wasn't completely convinced:
Several interesting elements here, most notably the Filipino folklore, which is quite rich in demonic figures such as the manananggal, which leaves its legs behind in a hidden place as the rest of it flies around, up to no good. There is also the tension between this sort of magic and the Catholic culture of families such as Tín's employers, the Calderones; her full name clearly reflects this aspect of the social mix in which she lives.

But I do have to wonder why her mother has sent her to Manila as a maid instead of keeping her at home to learn about her heritage, for which she would then have been better prepared when the time came; her ignorance had fatal consequences. If it had been a matter of needing the money, surely the powers could have provided. Or perhaps the decision had been Tín's own, to follow her sister, perhaps, but if so, it's not clear in the text.

The manananggal who is her family's enemy is definitely shown as an evil creature; folklore suggests that it attacks fetuses. But there is no suggestion that Tín's mother was likewise malevolent, or that Tín would become so once she came into her powers. This is a potential source of story tension that isn't explored here.
Dream Cakes
Meanwhile, Lois Tilton just calls this a:
Neat little piece.
We're into the closing days of our 2014 fund drive -- have you donated yet?
---
Another day over, another bonus draw concluded (although I won't get a chance to actually determine the winners until tomorrow -- I have tennis tickets today which mean a very early start and not much internet). But wait! There's more!
This one comes to us courtesy of Christopher Brown: a copy of this year's Twelve Tomorrows, the science fiction special issue of MIT Technology Review, signed by some of the contributors.
So far -- in addition to himself -- Chris has collected signatures from Joel Garreau, Bruce Sterling and William Gibson, and we're hoping to pick up one or two more before sending it on. Other authors in the issue include Pat Cadigan, Lauren Beukes, and Cory Doctorow.
So you know the drill now: donate by 23.59 PST today, Friday 14th November, and you'll be entered into an additional draw for this copy (as well as the main prize draw). You'll also be helping to unlock our remaining bonus content, including the conclusion of Ann Leckie's story. And earning our gratitude!
---
Bonus content time! We've reached our next threshold and published "Salamander Song", with words by Rose Lemberg and music by Emily Jiang:
When I was born, the warlord asked my mother to wash her hands in fire, for surely if she'd been true to him the gods would prove her innocence. When she refused, he pushed her in. Flames clothed her, wrapped her in a shawl of woven sparks. But she wasn't harmed.
Read/listen to the whole thing here.
So with four days to go, we need to raise just under $3,000 to fully fund the magazine for 2015. To entice you we've got our prize draw, and the promise of two more bits of bonus content: a column by John Clute on The Bone Clocks, and the concluding part of Ann Leckie's "She Commands Me and I Obey" (read part one here!)
So it's going to be close. We appreciate every donation, and every mention on Twitter or Facebook or your blog. Tell people why you donated! Thanks.
---
Well, if you didn't donate yesterday you've missed out on the bonus draw for a copy of Irregularity ... but the good news is, we have another bonus draw today!
Donate today by 23.59 PST, and you'll be entered into an additional draw (that is, in addition to the main prize draw) for one of ten paperback copies of Kaleidoscope, edited by Alisa Krasnostein and Julia Rios.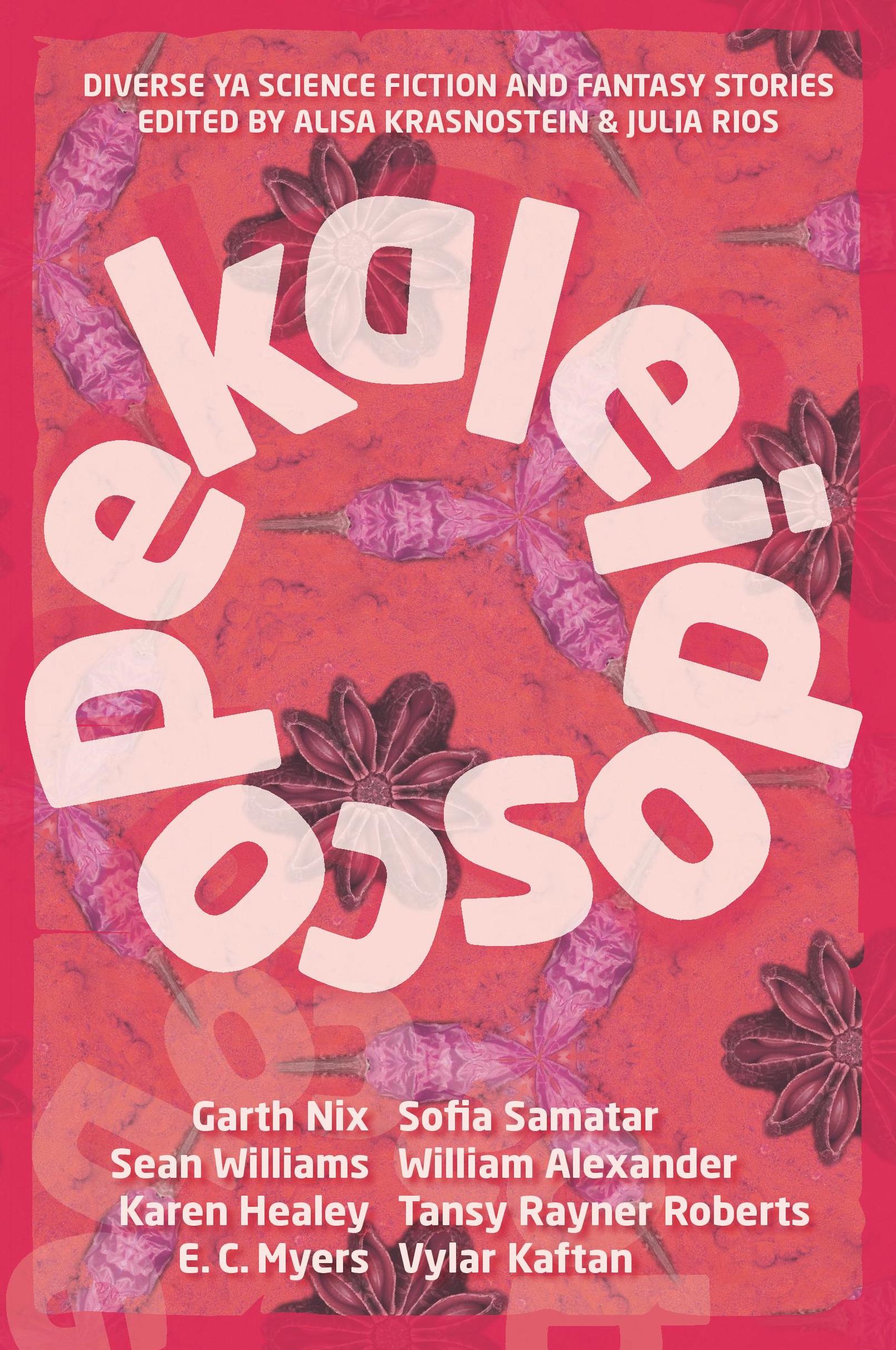 Kaleidoscope collects fun, edgy, meditative, and hopeful YA science fiction and fantasy with diverse leads. These twenty original stories tell of scary futures, magical adventures, and the joys and heartbreaks of teenage life
This one includes stories by, among others, John Chu, Amal El-Mohtar, Ken Liu, and Sofia Samtar, and Twelfth Planet Press set up a separate website for the book where you can find out more. Many thanks to them for enabling another shameless inducement to get you to donate today!
---
Nearing the end of our fiction recap, here's the lowdown on our September stories:
Art © 2014 by Martin Pasco
And what do the reviews bring this month?
Four Steps to the Perfect Smoky Eye
Lois Tilton summarises:
The title suggests a list story, which is the fashionable thing, but in fact it isn't. Rebecca is a teenaged girl in a town being stalked by a serial killer who targets teenaged girls. Her controlling and marginally abusive father takes this as an opportunity to assert his paternal authority by getting her a safekeeper bracelet. "But by the time I got the words out my dad had my wrist wrapped in his big solid hand, and he snapped the safekeeper on and it was too late." The safekeeper proves to be an impediment to Rebecca's social life, as it's programmed to rat on her at every opportunity. The text contrasts her father with the parents of her friends, who range all the way from neglectful to absent-minded, so we get the impression there's a happy medium somewhere along this range. And while there's a happy ending for Rebecca, we have to feel sorry for her mother, still stuck under the thumb of Mr Authority.
K Tempest Bradford recommended it in her io9 round-up:
There is so much going on under the surface of this story that it will probably take multiple reads for me to tease it out. On a basic level it's about the many different ways men perpetrate violence against women, ranging from the culturally sanctioned ways to the universal standard, and the ways that women deal with and escape this violence. It's also about the horror of being a teenager — yes, I said horror. And about young women who are not victims, no matter how outside forces want to treat them, and the ways in which they try to avoid being victims.
And Gillian Daniels also found it compelling:
There are stories I see myself in and stories I can't unsee myself in. Claire Humphrey's "Four Steps to the Perfect Smoky Eye," a piece about curfews, control, and those who want to rebel as opposed to those who must, is firmly in the latter category. It immediately made its way into my list of favorite stories from this past month. ... The individual experiences may not be my own, but the sense of powerlessness as a teenage girl, the idea of being valued as an object to protect rather than an autonomous entity capable of making informed decisions, resonates strongly.
It grew on Lisa M Bradley:
I'd also recommend Claire Humphrey's "Four Steps to the Perfect Smoky Eye." I only thought it was okay when I finished reading it, but I've been thinking about it ever since. The story is set in a science fictionalized 1980s America, so it is both familiar and not. Uncanny. I recognized some aspects so instantly but others were skewed by the speculative element, problematizing the whole. It made me think about how we (mis)remember recent history, how we (especially women) are manipulated to focus on things that will never change the status quo, and how gaslighting perplexes our views. Very interesting, indeed. I'm starting to wish I'd written it!
For Alix E Harrow:
Okay, so it's not the most subtle story on the planet, but it was short and snappy and got straight to the heart of a lot of stuff.
But it left Stevie Barry cold at Tangent:
While any tale involving child abuse is inevitably tragic, this one falls flat in several ways. The father is a cliché: he ticks almost every box for the archetype of an emotionally sadistic parent, and appears to have no other defining features. While the story is told through the eyes of his abused daughter, who would have little cause to think of him as anything but a villain, his effectiveness as an antagonist is dulled by the fact that he's such a formulaic character.

The only real science fiction element of the story, the safekeeper, is under-utilized. It's an interesting little piece of technology, functioning as a combination of panic button and taser, but its role in the story is reduced to a metaphorical handcuff. (It's even described as a handcuff, in case the reader can't spot the metaphor.)
Claire Humphrey also wrote about some of what went into the writing of the story.
Never the Same
This one garnered a "recommended from" Lois Tilton:
The narrative comes from an interestingly different angle, which makes for a thought-provoking piece. Much, like the scans that reveal the narrator's psychopathy, remains unexplained. What we see is a society that refuses to examine its assumptions and preconceptions. The narrator's scan says "psychopath" so everything they say must be a lie. The brother presents outwardly as "nice", so everything he says must be true, especially if he blames the narrator. But before the scan, the same people assumed the narrator was likewise "nice". And despite the received wisdom of the therapists, the narrator does indeed have a sense of right and wrong, which is to say the recognition of the rules society expects its members to follow and which will be punished if transgressed. The narrator seems to have made the rational and self-benefitting decision to be a useful member of the society in which they live. The narrator is also capable of forming attachments – most notably to the sister, who has always been a friend. The conclusion would certainly be seen as an act of love, if it were anyone else.
And Stevie Barry was similarly engaged:
What really sets the story apart is the narrator "themself." This is not a character who was unjustly labeled a psychopath -- they know what they are. While they know in an academic sense what they must do to appear trustworthy and non-threatening, on an emotional level, they don't grasp it. Certain rules must be followed, but why do people hold some in higher regard than others? And why are they the only one who sees the brother as what he is? Lacking the emotional investment the 'normal' people have, they can see the colony's hypocrisy for what it is.
The Great Detective
This was also one of K Tempest Bradford's picks at io9:
This is a nice mix of slightly humorous with slightly sad and should positively ping anyone who has or had an extraordinary grandmother. There's so much more going on in the background of this story than in the foreground, which makes it feel deep and rich, even as it's short and compact.
For Lois Tilton it was:
A positive work, in the heartwarming spectrum.
And Jamie Lackey looked at this one for Tangent:
In "The Great Detective" by Sarah Brooks, an alien grants Mayumi's grandmother's wish and transforms her into the Great Detective. She spends her time solving tiny mysteries and trying to nudge Mayumi out of the rut that her life has fallen into. But Mayumi is happy enough with her quiet existence until she loses her grandmother, and the title of Great Detective falls to her. It's a quiet, subtle story that is beautifully told. My only complaint is that the speculative element felt mostly superfluous, and the alien seemed more like a spirit when it appeared.
Were any of these favourites of yours? Then please consider donating!
---
In addition to the main prize draw, everyone who donates to the fund drive today (by 23.59 PST) will be entered into an additional draw, for one of ten ebook copies of Irregularity!
Irregularity is the latest anthology from Jurassic London, published to coincide with two exhibitions at the National Maritime Museum in London this year: a major exhibition on the story of the quest for longitude at sea and a steampunk show at the Royal Observatory. It is, accordingly, an anthology of stories "about the tension between order and chaos in the 17th and 18th centuries. Men and women from all walks of life dedicated themselves to questioning, investigating, classifying and ordering the natural world...." You can see the full table of contents here; it includes stories by Nick Harkaway, Claire North, Adam Roberts (whose "The Assassination of Isaac Newton by the Coward Robert Boyle" really has to be read to be believed), EJ Swift and many others.
We have, as I say, ten copies available -- so, another reason to donate today!
---